Keynote Speaker:
Dr. Bill Edgar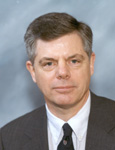 Dr. Edgar holds the following degrees and has taught at the following institutions. B.A., Harvard University, 1966; M.Div., Westminster Theological Seminary, 1969; Graduate studies, Columbia University; Dr. Theol., University de Gen, 1993; Home missionary of the Orthodox Presbyterian Church, Pennsylvania, 1969-1970; Faculty, Brunswick School, Greenwich, Connecticut, 1970-1978; Professor of Apologetics, Faculty Libre de Theologie form, Aix-en-Provence, France, 1979-1989; Westminster, 1989-.
Dr. Edgar's lecture schedule is as follows:
Friday, February 24, Great Hall, Mahler Student Center, DBU campus:
- Friday Symposium - "The Revenge of the Aesthetic: The Decline and Reemergence of Beauty." 12 noon.
- Lecture Performance: An African-American Musical Journey, from Slavery to Early Jazz. 1:15 pm.

Saturday, February 25, International Student Building, DBU Campus:
- "Can we be good without God?" 11:00 am.
- Concluding Banquet Address (for conference presenters and guests only): The Art of Persuasion. Basic Lessons in Christian Apologetics"
Student Paper Presentations:
All paper student paper presentations will be on Saturday, February 25th in the new International Student Center on the DBU campus.
Undergraduate Student Component: Current DBU/PCS students are invited to gain valuable academic experience through the preparation and presentation of a scholarly paper on wide-ranging, interdisciplinary topics in a friendly, supportive environment. Paper length and format: approx. 10-12 pages; 30 minute sessions, 20 minute reading time, 10 minute
Q & A.
Graduate Student Component: DBU alumnae now in graduate school and their graduate student contacts are invited and encouraged to participate in this conference for the purposes of providing conference experience, to maintain ties with the PCS community, and to enjoy a mini-reunion with friends and colleagues.