Spring 2007 - "Participating in and Contributing to the Great Conversation"
Learning Center 316 @ 12 Noon
Download the Symposium Booklet here: Download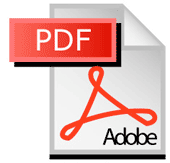 | | | |
| --- | --- | --- |
| Date | Topic | Presenter(s) |
| Jan 26 | "'A Celebrity Faculty, a Malignant Curriculum, and a Peer Pressure Grading Scale: The University of Popular Culture and Christian Higher Education in Contention." | Dr. David Naugle |
| Feb 2 | "500 Days in Baghdad: A DBU Graduate Reflects on Her Experience in Iraq." | Erika Wiegand |
| Feb 9 | "Here for Humanity: Introducing the Movie "Amazing Grace" on the Life and Work of William Wilberforce" | Kevin Belmonte |
| Feb 16 | "Liturgy for Suspicious Protestants" | Dr. D.H. Williams |
| Feb 23 | "Where Your Deep Gladness and the World's Deep Hunger Meet: Reflections on Faith, Vocation, and Culture" . | Dr. Steven Garber |
| Mar 2 | "Bad to Good: On Science and the Search for Truth in Business Ethics." | Professor Ross O'Brien |
| Mar 9 | "A National House of Prayer for All People'-A Historical Architectural, Religious and Cultural Look at the National Cathedral in Washington, D.C." | Robert Whitfield |
| Mar 23 | "Why There Really IS a War between Science and Christianity: C.S. Lewis Vision of a "Repetant Science" | Ken Myers |
| Mar 30 | "Communicating God in Art." | Dawn Waters Baker |
| April 13 | "Master's of Metaphor: Faith and Creative Writing" | Al Haley |
| April 20 | "Reviving Interest in Books and Reading in an Age of Blogging and MySpace" | Dr. John Jaeger |
| April 27 | "Sinners in the Hnad of an Angry God' Revisited- A Dramatic Presentation: Jonathan Edwards and His In/Famous Sermon in Context" | Professor Todd Von Helms |
______________________________________________________________________________
Ken Myers, executive host and producer of Mars Hill Audio Lectures at DBU: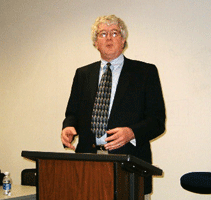 Ken Myers Lectures in the DBU Friday Symposium, March 23.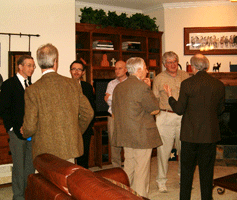 Ken Myers dialogs with guests at a lecture at Dr. Naugle's home.
_________________________________________________________________________
Spring 2007 - "Participating in and Contributing to the Great Conversation"
Learning Center 316 @ 12 Noon
Ken Myers to Speak at DBU's Friday Symposium
Friday, March 23 at 12 Noon, Learning Center 316!
"Why There Really IS A War Between Science and Religion:
C. S. Lewis's Vision of a 'Repentant Science'"

Ken Myers is the executive producer of Mars Hill Audio, a non-profit organization devoted to helping Christians think wisely about modern culture through a variety of audio resources. He was formerly the editor of This World (the forerunner of the monthly journal First Things). Prior to his tenure at This World, he was executive editor of Eternity, the evangelical monthly magazine. For eight years he was producer and editor for National Public Radio, working much of that time as arts and humanities editor for the two news programs, Morning Edition and All Things Considered.
Mr. Myers is a graduate of the University of Maryland where he studied film theory and criticism, and of Westminster Theological Seminary in Philadelphia. He is married and has two children and lives near Charlottesville, Virginia.
For more information on Mars Hill Audio, log on to: www.marshillaudio.org/