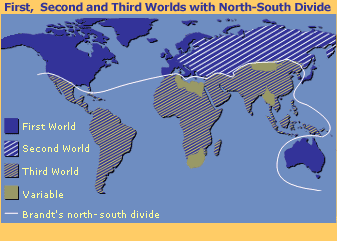 "Third World"
Coined by economist Alfred Sauvy, "Third World" was used to designate those countries not aligned with either the "First World," nations aligned with Europe and the United States, or the "Second World," nations aligned with the Soviet Union. Quickly, "the Third World" began to be associated with conditions of poverty and social strife, and the term became synomous with underdeveloped nations.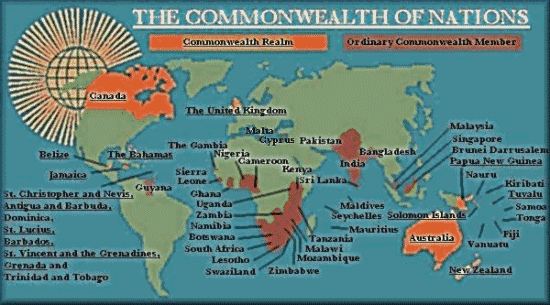 "Commonwealth"
Often associated with the former countries of the British Commonwealth and Empire, "Commonwealth Literature" has often been restricted to works written in English. Sometimes, the term has been expanded to include Welsh, Irish, and Scottish language texts, and on occasion to any text written in those countries.
"Post-colonialism"/ "Postcolonialism"
Broadly a study of the effects of colonialism on cultures and societies. It is often concerned with both how European nations conquered and controlled "Third World" cultures and how these groups have since responded to and resisted those encroachments. Colonialism as a political and ideological force can be seen in any number of historical periods and cultures, including the Chinese and Japanese conquests of Korea, the invasion of North India by Muslim nations, the conquest of the Americas by European nations, the Indonesian occupation of East Timor, etc. For our purposes, in English, post-colonialism often refers to the British occupation of Africa, India, the Caribbean, and to a lesser extent Singapore, parts of the Middle East, and the indigenous peoples of Australia and Canada and to what happens after this occupation is ended.
The term itself engenders all sorts of debate, including a concern that the term attempts to homogenize the experience and encounter of very different nations and peoples. After all, aren't we making a mistake to treat the experience of the Igbo in Nigeria as similar to the Mogul rulers of North India or the former slaves of the Antilles? Likewise, didn't British colonialism express itself in different ways in those various places?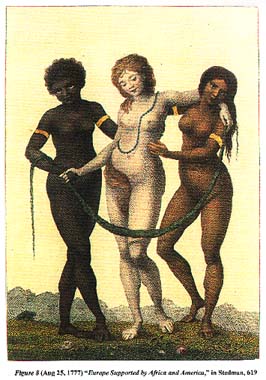 Europe Supported By Africa & America
William Blake
In J. G. Stedman, Narrative, of a five years' expedition, against the Revolted Negroes of Surinam, in Guiana, on the Wild coast of South America; from the year 1772, to 1777.