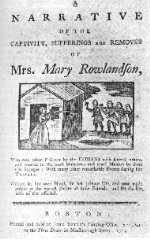 Full Title (1677 ed.): A True History of the Captivity and Restoration of Mrs. Mary Rowlandson, A Minister's Wife in New-England: Wherein is set forth, The Cruel and Inhumane Usage she underwent amongst Heathens for Eleven Weeks time: And her Deliverance from them. Written by her own Hand, for her Private Use: and now made Public at the earnest Desire of some Friends, for the Benefit of the Afflicted.

Full Title (1773 ed.): A NARRATIVE of the Captivity, Sufferings and Removes of Mrs. Mary Rowlandson, who was taken Prisoner by the INDIANS with several others, and treated in the most barbarous and cruel Manner by those vile savages: With many other remarkable Events during her TRAVELS.
Question: What do the work's full titles reveal about the work's purpose, intentions, and worldview? How does each title present Rowlandson? How do they present the native tribes? What has changed between the two titles?
---
Themes
Providential History: Rowlandson understands God to be working through King Philip's War in a manifestation of the Deutronomic Code (Deut 28-30)--a perspective of blessing and cursing, a paradigm of reward and punishment. God blesses a people's obedience and curses their rebellion against righteous ways. Rowlandson's experience in captivity represents both God's punishment for her pride and his protection through adverse circumstances for her repentant obedience.


Biblical Typology: Rowlandson makes sense of her experience by seeing it through certain biblical motifs, such as Joseph being sold into slavery by his brothers and the Exodus of the Jews under Moses. She also applies the liturgical language of the Psalter through which she expresses her grief, rage, and remorse.


The Captivity Narrative's Purpose: She is a female sufferer, humble and innocent, whose kidnapping expresses the Puritan community's personal sense of a public event. Her narrative identifies for her audience their worst fears, makes sense of them through a Puritan worldview, plays off their prejudices, and shows one can survive to a new direction. It is a story of removal, testing, and return, as well as the examination of conscience--knowledge of sin leading to repentance and regeneration.


The Political Necessity of King Phillip's War: Rowlandson and her three children are taken as bargaining tools in a land dispute/war. Rowlandson's personal situation can be seen against a larger political breakdown between the New England Puritans and the Wampanog. The political underpinnings are masked by her narrative, as well as John WInthrop's preface.


Anthropology vs. Highlighting: Rowlandson's narrative can be said to offer semi-useful information about Native American life, even if we remember her perspective and circumstances--the eating of horse liver, boiling of peanuts, wheat pancakes, bear, the cruelty of her misfortunes, the corrupt acts of some "praying" Indians, the nature of the forced march, etc.
---
Genres
captivity narrative: 1675-1740. These usually involved helpless women taken and returned. They expressed the community's sense of the event, helped to rationalize what had occurred, and helped them to move onto new life afterwards.
travel narrative: Two ways to consider the travel narrative: one, as an expression of the personality and interests of the author, so much so that the theme and treatment of the theme count for more than the factual truth of the author's impressions; two, as works that successfully profile the people, objects, and places where they travel; the author is subsumed to the interest, even otherness, of another place and culture.
jeremiad: These Puritan texts, often poems or sermons, stressed "the courage and piety of the founders, lamenting recent and present ills, and crying out for a return to the original conduct and zeal" (Elliott 257). Associated with the name and personality of Jeremiah, they are often considered prophetic, even angry, texts that call for public mourning and renewal of character.
Question: What kind of genre or genres does Rowalndson's narrative represent? Explain your answer with specifics.
Elliott, Emory. "The Jeremiad." in The Cambridge History of American Literature. Volume One: 1590-1820. Ed. Sacvan Bercovitch. Cambridge: Cambridge UP, 1997.