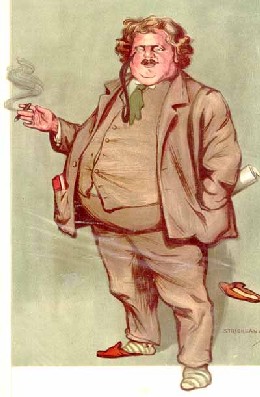 Discussion Questions
How does Chesterton continue to explore the themes of madness and reason, as well as fear and joy, in the second half of the book?
How important is it that we recognize the book is a dream (even a nightmare)?
Does the reader's conception of Syme change by the end? If so, how?
Why do the detectives each conceive of Sunday differently?
How do the days of creation reveal some aspect of each detective?
What is Chesterton's understanding of impressionism? Why does he find it problematic?
How does he employ apocalyptic language as the book progresses?
What is the double-sided secret of the world? What does this suggest about the problem of evil?
How is Gregory a satan, an accuser, such as the one in Job?
Why does the novel end the way it does?
Reflection Questions
"I have often been asked what I mean by the monstrous pantomime ogre who was called Sunday in that story; and some have suggested, and in one sense not untruly, that he was meant for a blasphemous version of the Creator. But the point is that the whole story is a nightmare of things, not as they are, but as they seemed to the young half-pessimist of the '90s; and the ogre who appears brutal but is also cryptically benevolent is not so much God, in the sense of religion or irreligion, but rather Nature as it appears to the pantheist, whose pantheism is struggling out of pessimism."
--Autobiography (1936)
"You ask me who Sunday is? Well, you may call him Nature, if you like. But you will note that I hold that when the mask of Nature is lifted you find God behind. All that wild exuberance of Nature, all its strange pranks, all its seeming indifference to the wants and feelings of men, all that is only a mask."
--Interview, 24 January 1926
"I think you can take him to stand for Nature as distinguished from God. Huge, boisterous, full of vitality, dancing with a hundred legs, bright with the glare of the sun, and at first sight, somewhat regardless of us and our desires. There is a phrase used at the end, spoken by Sunday: 'Can ye drink from the cup I drink of?' which seems to mean that Sunday is God. That is the only serious note in the book, the face of Sunday changes, you tear off the mask of Nature and you find God."
--Interview, 1926
Do you find Chesterton's explanation of Sunday satisfying? Why or why not?
Likewise, do you find his answer to the anarchists (and to the problem of evil) satisfying?
If you were to describe the natural world, how would you?
In Orthodoxy, Chesterton holds that Christianity, rather than seeking to achieve an Aristotelian mean, holds the various extremes of human emotion and virtue in equipoise by giving them appropriate places in which to express rightly their extremity. Is this true?